Beverages
Wine description:
2020 | Swartland, South Africa
The aromas are rich with honey, orange blossom and white stone fruit notes.  Generous on the palate, continuing with ripe citrus flavors, very fresh, with a hint of honey.
Suggested Pairings:
Crispy Cauliflower
Truffle Fries
Wine description:
2018| Mendoza, Argentina
Plenty of cocoa powder as well as violets follow through to some serious tannins that are already well integrated. They and the crisp acidity give the dry finish some assertive power.
Wine description:
2016| Campo de Borja, Aragon, Spain
Rich, full bodied and muscular, Alto Moncayo has riveting intensity and palate staining extract; this Spanish red is inky/purple, full-bodied, and rich.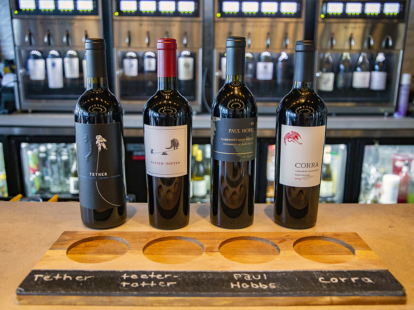 Wine description:
La Linda – Expressive and balanced aromas, with fresh spiced vegetal notes. Straightforward and mature on the palate, with fine and strong tannins that provide structure. Handpicking, selection of clusters, destemming and grain selection. Fermentation in stainless steel tanks at a controlled temperature of 28°C with selected yeasts. When alcoholic fermentation is completed, it is aged in concrete and stainless steel tanks. Lightly filtered while bottled. This wine goes very well with grilled red meat, such as chorizo beef, thick ribs, and lamb curry.
Tether 2019 – Anna Monticelli is the winemaker of this forward, smooth, and eminently drinkable Cabernet-based blend. Aged in 50% new French oak, the upfront nose has aromas of plum, blackcurrant, black cherry, tarragon, and pepper, followed by a juicy palate held up by firm tannins.
Teeter Totter, Fait Maine 2019 – This powerful and well-balanced boasting with fresh aromatics. Pops of blackberry, raspberry, and vanilla grab you first followed by subtler notes of thyme, violet and lavender. The smaller percentages of Bordeaux varietals create a juicy palate filled with impeccably balanced tannins. The well-structures fruit laden finish.
Paul Hobbs Napa Valley 2017 – Dark crimson in color, the nose is perfumed with luxuriant aromas of red currant, boysenberry, cedar box, and Herbs de Provence. The intensely layered palate excites with flavors of cassis, graphite, blueberries, and sage, woven seamlessly together with savory, velvety tannins.
Wine description:
Cakebread Cellars, Chardonnay, Napa Valley
This wine opens with aromas of ripe golden apple, white peach and notes of oak.  On the palate, apple and pear characters are balanced by fresh acidity, and the finish is clean with appealing mineral notes.
Suggested Pairings: Brussel Sprouts, Roasted Beet Salad and Smoked Trout
Wine description:
2020| Suisun Valley, North Coast, California
A vibrant, velvety purple, the vintages features scents of supple leather and earthy wood. The nose is layered with notes of ripe blackberries, rose petals and a hint of clove. Extremely fine, smooth tannins envelop the palate right away, held in seamless balance by this wine's oak.
Suggested Pairings:
Baba's Chicken
Steak Frites
Wine description:
1997| Saint Emilion, Bordeaux, France
Beausejour Duffau Lagarrosse is known for their stunning, 1990 vintage which is sought after by collectors all over the world. In fact 1990 Beausejour Duffau-Lagarrosse has earned legendary status among wine collectors due to its 100 Pt score from Robert Parker. Robert Parker called it one of his desert island wines. The small, 6.75 hectare vineyard of Beausejour Duffau-Lagarrosse is planted to 80% Merlot, 19.5% Cabernet Franc and .5% Cabernet Sauvignon. This shows a moderate increase in the amount of Cabernet Franc and a reduction in the Cabernet Sauvignon. The goal here is to continue increasing the amount of Cabernet Franc. The vineyard is quite well placed in a single parcel on top of the Saint Emilion plateau.
Wine description:
2017| Lebanon
Chateau Musar Rosé is a still and softly-oaked tribute to the 'blended' rosés of Champagne, a style widely considered to make the best rosé in the world. It is not made every year as specific grape qualities are required to ensure the varieties combine in elegant form. In their youth the wines are salmon pink in colour, smooth, well-balanced and velvety-textured, with aromas and flavors of peaches, pears, oranges, grapefruit, almonds, wild herbs and citrus leaves. They develop mellow, spicy notes and tawny hues as they age.
The main grapes are Obaideh and Merwah, indigenous to Lebanon and related to Chardonnay and Semillon. Planted between 1920 and 1947 the Obaideh vineyards are in the foothills of the Anti-Lebanon mountains on stony, chalky soils, while the Merwah vines are on the seaward side of Mount Lebanon on calcareous gravels. Yields are very low for these untrained bushvines: 15 to 25 hl per hectare. At high altitude (around 1400m) they are still on their own roots, among very few vineyards in the world of this calibre. Around 5% of southern red Rhône grape Cinsault gives the wine its subtle colour. Fermented and aged for 6 to 9 months in French oak barrels from the forest of Nevers, the wines are bottled a year after the harvest and released for sale two years later.
Wine description:
2017| St. Emilion Grand Cru, Libournais, Bordeaux, France
Quinault l'Enclos comes from a very gravelly soil with great drainage, but there's not a lot of water during dry periods. Adeptly produced by the team of Cheval Blanc (who purchased the estate in 2008), the wine nonetheless maintained its poise under the dry and warm ripening conditions of 2017, coming in at a respectable pH of 3.67 and relatively moderate alcohol of 14.1%. The 2017 Quinault l'Enclos has a deep garnet-purple color and beautifully expressed notes of baked black cherries, ripe black plums and boysenberries, plus hints of violets, dark chocolate, star anise and tobacco leaf. The medium-bodied palate has a gorgeous velvety texture and oodles of freshness supporting the perfumed black fruits, finishing long and fragrant. This vintage is a blend of 70% Merlot, 15% Cabernet Sauvignon and 15% Cabernet Franc, aged in 50% new oak and the rest in one-year-old 500-liter barrels and foudres.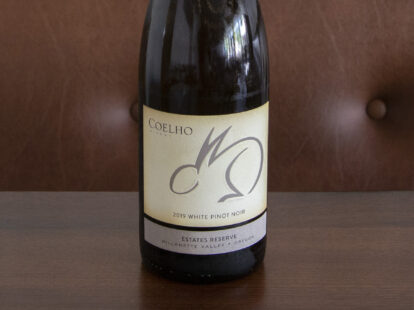 Wine description:
2019 | Eola – Amity Hills, Williamette Valley, OR
The color of rose gold, this unique white wine made from red grapes is redolent of stone fruits: peach, nectarine and yellow plums.  The rich attack tastes of ripe white peaches and nectarines, expanding mid-palate into a symphony of warm fruit flavors.  A touch of residual sugar balances the acidity.  This is essentially a brut rose wine without the bubbles.
Suggested Food Pairings:
Crispy Cauliflower
Wine description:
Sancerre, Upper Loire, France
Pale golden-green, remarkable and aromatic intensity on the nose.  Floral notes of white flowers such as hawthorn, acacia, eglantine and elderflower.  This is backed up by blackcurrant buds and wildflowers.  It is lively on the palette, with very pleasant acidulous characteristics prolonged by light fruity notes.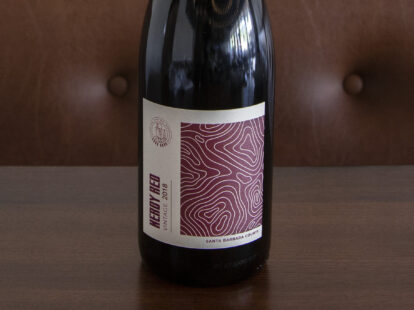 Wine description:
2018 | Santa Rita Hills, California, United States
This exclusive blend is made of Pinot Noir, Syrah and Sangiovese.  It sees 10% New French Oak and 90% Neutral Oak for 26 months.  The fruit comes from Santa Rita Hills and the Santa Ynez Valley.  Nerdy Red has mouthwatering red fruit, spice, pepper and a hint of strawberry.  This fruit forward red is a great way to start your wine journey.
Suggested Food Pairings:
House Fries