Beverages
Wine description:
2022
Txakolina, Spain
A fresh and clean rose that is easy to enjoy. Rich aromas of red and black fruits, such as strawberries, blackberries and black currants, over a citrus background and fine vegetal notes. Very fresh in the mouth with a balanced acidity offering a pleasing palate and a long, aromatic finish.
Wine description:
2016| Campo de Borja, Aragon, Spain
Rich, full bodied and muscular, Alto Moncayo has riveting intensity and palate staining extract; this Spanish red is inky/purple, full-bodied, and rich.
Wine description:
Wine with good structure and modern which presents: intense ruby red color with slight garnet reflections. Vinous bouquet with a delicate scent of currant, moderately spicy. Dry, savory and persistent flavor, very pleasant in its harmony.
Wine description:
Champagne, France
Champagne Blend
Charles Heidsieck
Experience a fully developed wine, with a radiant bouquet that is captivating yet subtle. Although notes of fully ripe fruit, such as nectarines and cherry plums, are apparent initially, the finish reveals the wealth of the gourmet world, hinting at nougat, honey and cereal grains.
Blend: 34%  Pinot Noir, 33%,  Chardonnay, 33% Pinot Meunier.
Wine description:
1997| Saint Emilion, Bordeaux, France
Beausejour Duffau Lagarrosse is known for their stunning, 1990 vintage which is sought after by collectors all over the world. In fact 1990 Beausejour Duffau-Lagarrosse has earned legendary status among wine collectors due to its 100 Pt score from Robert Parker. Robert Parker called it one of his desert island wines. The small, 6.75 hectare vineyard of Beausejour Duffau-Lagarrosse is planted to 80% Merlot, 19.5% Cabernet Franc and .5% Cabernet Sauvignon. This shows a moderate increase in the amount of Cabernet Franc and a reduction in the Cabernet Sauvignon. The goal here is to continue increasing the amount of Cabernet Franc. The vineyard is quite well placed in a single parcel on top of the Saint Emilion plateau.
Wine description:
2017| St. Emilion Grand Cru, Libournais, Bordeaux, France
Quinault l'Enclos comes from a very gravelly soil with great drainage, but there's not a lot of water during dry periods. Adeptly produced by the team of Cheval Blanc (who purchased the estate in 2008), the wine nonetheless maintained its poise under the dry and warm ripening conditions of 2017, coming in at a respectable pH of 3.67 and relatively moderate alcohol of 14.1%. The 2017 Quinault l'Enclos has a deep garnet-purple color and beautifully expressed notes of baked black cherries, ripe black plums and boysenberries, plus hints of violets, dark chocolate, star anise and tobacco leaf. The medium-bodied palate has a gorgeous velvety texture and oodles of freshness supporting the perfumed black fruits, finishing long and fragrant. This vintage is a blend of 70% Merlot, 15% Cabernet Sauvignon and 15% Cabernet Franc, aged in 50% new oak and the rest in one-year-old 500-liter barrels and foudres.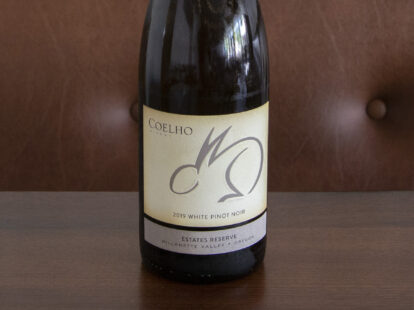 Wine description:
2019 | Eola – Amity Hills, Williamette Valley, OR
The color of rose gold, this unique white wine made from red grapes is redolent of stone fruits: peach, nectarine and yellow plums.  The rich attack tastes of ripe white peaches and nectarines, expanding mid-palate into a symphony of warm fruit flavors.  A touch of residual sugar balances the acidity.  This is essentially a brut rose wine without the bubbles.
Suggested Food Pairings:
Crispy Cauliflower
Wine description:
Sancerre, Upper Loire, France
Pale golden-green, remarkable and aromatic intensity on the nose.  Floral notes of white flowers such as hawthorn, acacia, eglantine and elderflower.  This is backed up by blackcurrant buds and wildflowers.  It is lively on the palette, with very pleasant acidulous characteristics prolonged by light fruity notes.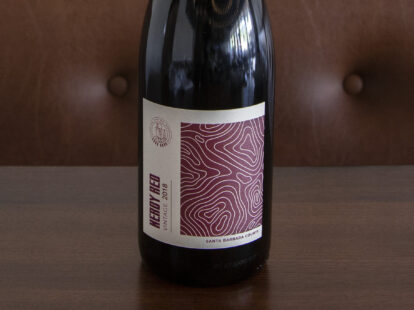 Wine description:
2018 | Santa Rita Hills, California, United States
This exclusive blend is made of Pinot Noir, Syrah and Sangiovese.  It sees 10% New French Oak and 90% Neutral Oak for 26 months.  The fruit comes from Santa Rita Hills and the Santa Ynez Valley.  Nerdy Red has mouthwatering red fruit, spice, pepper and a hint of strawberry.  This fruit forward red is a great way to start your wine journey.
Suggested Food Pairings:
House Fries
Wine description:
2020 | Santa Rita Hills, CA
This exclusive blend is made of Pinot Grigio, Gruner Veltliner and Gewurztraminer with a subtle addition of Chardonnay and Loureiro.  This easy drinking white is a great way to start your wine journey.
Suggested Pairing:
House Fries
Wine description:
2019| Napa Valley, California, United States
Made from 100% Cabernet Sauvignon, the deep garnet-purple colored 2019 Cabernet Sauvignon explodes with vivacious scents of crushed blueberries, chocolate-covered cherries and blackcurrant pastilles with hints of menthol, unsmoked cigars and cardamom. The concentrated, full-bodied palate (15% alcohol) has a solid foundation of firm, fine-grained tannins with seamless freshness and a long, spicy finish. 300 cases were made." – Robert Parker 97+ Points
"I continue to love the wines from Celia Welch. Her 2019 Cabernet Sauvignon is medium to full-bodied, elegant, and seamless, with quintessential Cabernet notes of black fruits, tobacco, earthy, herbal nuances, and a touch of chocolate. The balance is spot on, it shows the seamless, balanced style of the vintage, and it's a joy to drink. It will last for 20-25 years."- Jeb Dunnuck 96 Points
"For the 2019 Corra Cabernet Sauvignon, this "season of excellent timing" provided the foundation to create a "vintage of excellent balance". Vibrant cassis, blackberry, dark cherry and vanilla aromas combine with a touch of cocoa powder and a bit of toasty oak in the aromas. On the palate, the wine shows vibrant fruit at entry, a solid core but well-resolved tannins and crisp acidity at the finish. As with prior vintages, this Napa Cabernet was crafted from grapes grown on the steep west-facing rocky slopes in the Pritchard Hill area (east of Rutherford) as well as on the western bench lands ,of Rutherford and Oakville. Each vineyard source was vinified separately, then blended carefully after one year in oak, return to the barrels and aged for an additional 10 months. The final product is 100% Cabernet Sauvignon, all from Napa Valley, matured in 100% French oak (70 % new) for 22 months.
Suggested Pairing:
Mom's Brisket "Danny Style"