Description:
2020 | Swartland, South Africa
The aromas are rich with honey, orange blossom and white stone fruit notes.  Generous on the palate, continuing with ripe citrus flavors, very fresh, with a hint of honey.
Suggested Pairings:
Crispy Cauliflower
Truffle Fries
Description:
Cakebread Cellars, Chardonnay, Napa Valley
This wine opens with aromas of ripe golden apple, white peach and notes of oak.  On the palate, apple and pear characters are balanced by fresh acidity, and the finish is clean with appealing mineral notes.
Suggested Pairings: Brussel Sprouts, Roasted Beet Salad and Smoked Trout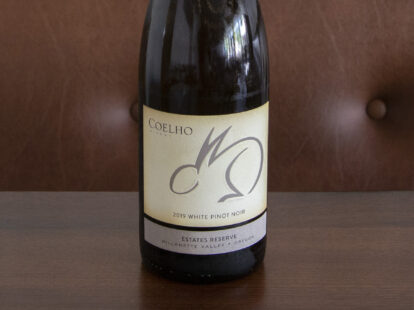 Description:
2019 | Eola – Amity Hills, Williamette Valley, OR
The color of rose gold, this unique white wine made from red grapes is redolent of stone fruits: peach, nectarine and yellow plums.  The rich attack tastes of ripe white peaches and nectarines, expanding mid-palate into a symphony of warm fruit flavors.  A touch of residual sugar balances the acidity.  This is essentially a brut rose wine without the bubbles.
Suggested Food Pairings:
Crispy Cauliflower
Description:
Sancerre, Upper Loire, France
Pale golden-green, remarkable and aromatic intensity on the nose.  Floral notes of white flowers such as hawthorn, acacia, eglantine and elderflower.  This is backed up by blackcurrant buds and wildflowers.  It is lively on the palette, with very pleasant acidulous characteristics prolonged by light fruity notes.
Description:
2020 | Santa Rita Hills, CA
This exclusive blend is made of Pinot Grigio, Gruner Veltliner and Gewurztraminer with a subtle addition of Chardonnay and Loureiro.  This easy drinking white is a great way to start your wine journey.
Suggested Pairing:
House Fries
Description:
2020 | Santa Ynez, Central Coast, CA
Contemporary Grenache Blanc expressions lean tight and bright yet this bottling takes an extremely tropical approach.  Showing honeydew, banana cream and bubblegum on the nose.  It's restrained upon first sip before overpowering tropical waves take hold.  A well-made wine, it will find fans who crave this flowery style.
Suggested Pairings:
Striped Bass Crudo
Description:
2019| France
Pinot Gris
Dirler-Cade
Honey, apple and tropical fruits on the nose. On the pallet demi-sec (semi sweet), old world mineralogy with apples and pears.
Description:
2019| Chablis Burgundy, France
A blend of several estate-owned vineyards, planted to original rootstock near the village of La Chapelle Vaupelteigne, due west of premier cru 'Fourchaume' where the soils are chalky and stony.  Textbook Chablis terroir with vines aging from 25-30 years.  This wine is hand-harvested then pressed full cluster and fermented on indigenous yeast in temperature controlled tanks.  Also aged in tanks (no barrel aging) and bottled unfined and unfiltered.  Bursting with aromas of fresh herbs, white blossoms and chalk dust.  Refined, pure, lively flavors of lemons, limes and sea salt top off this wine.
Suggested Pairings:
Baby Romaine Salad
Prince Edward Island Musse
Description:
Macon-Verze, Maconnais, Burgundy, France
All fruit is manually harvested and pressed in Verze and was formed biodynamically.  The resulting wine is that of great purity, with both floral and mineral notes, which gives off a lot of energy and liveliness.
Suggested Food Pairings:
Prince Edward Island Mussels
Description:
2019 | Friuli, Friuli-Venezia Giulia, Italy
A delicious Pinot Grigio with cooked apples, honey and hints of lemon rind.  Following through to a medium body finish with dried apple and pineapple character at the finish.
Suggested Pairings:
Striped Bass Crudo
Broccolini
Description:
2022| Sonoma Coast, CA
This wine has a deep-green yellow color with a pronounced and refined sense of minerality pierces through the initial first blush of stone fruit on the nose.  Enhanced with a notes of wet stone, powdered sea sand, and a slight sense of roasted grain.  Perfectly balanced, the core is packed with grilled citrus, a touch of lemongrass and threaded with a vibrant acidity that reverberates across the palate.
Suggested Pairings:
Prince Edward Island Mussels
Description:
Napa Valley, California, United States
Chardonnay
Kongsgaard
The Chardonnay gives up peach blossoms, apricot preserves, honeycomb and croissant with touches of cashews and jasmine. Full-bodied, rich, opulent and seductive, it has a gorgeous creamy texture and very long, very spicy finish.