Description:
2022
Txakolina, Spain
A fresh and clean rose that is easy to enjoy. Rich aromas of red and black fruits, such as strawberries, blackberries and black currants, over a citrus background and fine vegetal notes. Very fresh in the mouth with a balanced acidity offering a pleasing palate and a long, aromatic finish.
Description:
Champagne, France
Champagne Blend
Charles Heidsieck
Experience a fully developed wine, with a radiant bouquet that is captivating yet subtle. Although notes of fully ripe fruit, such as nectarines and cherry plums, are apparent initially, the finish reveals the wealth of the gourmet world, hinting at nougat, honey and cereal grains.
Blend: 34%  Pinot Noir, 33%,  Chardonnay, 33% Pinot Meunier.
Description:
2020| Santa Ynez Valley, Central Coast, California
Pale blush in color, this dry Rosé is refreshingly clean with notes of strawberry, white raspberries and hints of gardenia and mint. This wine has beautiful structure with firm, yet velvety, tannins and a crisp, lingering finish.
Description:
France
Disclosing a succession of elegant and harmonious sensations; a fresh maturity, supple and refined lines, inspiring well-being and an emotion which is appreciated and shared. The nose and palate are in perfect harmony, with rich and striking aromas of vine and lime blossom.
Description:
France
Rich hints of pastry cream and smoky mineral underscore flavors of strawberry preserves, orange zest and ground ginger in this lightly mouthwatering rosé Champagne. Well-balanced, with a fresh finish.
Description:
N.V| France
Smoky mineral and spice accents meet creamy layers of poached white peach and lemon meringue pie in this bright and creamy blanc de blancs Champagne. Harmonious, with a long, aromatic finish of acacia blossom and honey.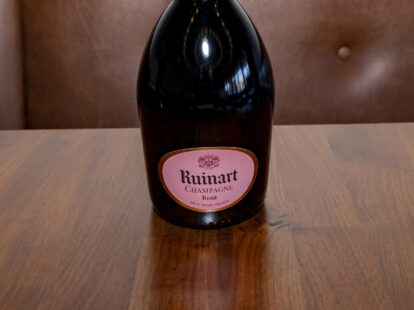 Description:
N.V| Champagne, France
Rosé
Ruinart
On the palate the attack is distinctive and full, cradled by a gentle effervescence. The balance brings together delightful freshness and a voluptuous body. An elegant burst of peppermint and pink grapefruit rounds out this cheeky palette of aromas.
Description:
N.V | Champagne, France
Champagne Blend
Veuve Clicquot Ponsardin
"Some oyster shell, berry biscuits, fresh strawberries and gently toasty brioche here. Lots to like. The palate is plump and flavorsome with plenty of berries and citrus intertwined. Good depth here. Grapefruit finish." James Suckling